Q & A with Jenny Gardiner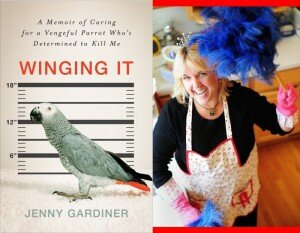 Welcome to the house, Jenny Gardiner!
**!**
____________________
BotH:
Welcome to Books on the House, Jenny!   Tell us about Winging It, Slim to None, and how you got your start writing.
Jenny:
Thanks so much for having me here today Misa!
You know I had a hard time deciding which book to talk about, since my memoir WINGING IT: A MEMOIR OF CARING FOR A VENGEFUL PARROT WHO'S DETERMINED TO KILL ME (sort of David Sedaris meets Marley & Me, with a deadly beak) came out in the spring time, but I've got a new release (SLIM TO NONE) that's only available digitally through Kindle or Kindle app for iPad/iPhone/computer download, and wanted to let people know about this book because it's near and dear to my heart.
SLIM TO NONE is about the premier food critic in Manhattan, who is outed on Page Six of the New York Post–her picture revealed, everyone not only knows what she looks like, but also that she's too large to now be able to go incognito to review restaurants. Her cover blown, her editor gives her six months to lose weight or she's out of work.
I loved the idea of taking this woman who has to eat for a living and then make her not be able to eat in order to continue eating for a living. Along the way I throw all sorts of obstacles in her path as she wrestles with her obsessions with food, her life issues that might have led to food becoming a little bit too important to her, and other things she has to confront in order to fix her issues.  Anyone who loves food and anyone who's ever had to wrestle with dieting will "get" this book and "get" my protagonist, Abbie.
I started writing in fourth grade because I sucked so badly at math. I had to write an extra credit report on Albert Einstein to get a "C" in the class. I realized I was never going to get anywhere in life with my math skills (my mother said the world would rue the day anyone had to trust a bridge that I had any part in building), so I pursued writing instead. I had a number of writing-related jobs over the years, including writing for newspapers, radio and even being a TV reporter ever so briefly. Then had a long hiatus while my kids were little, and started writing again about six years ago when we had a terrible drought that threatened to kill holiday festivities–we had extreme water restrictions so I feared no one would host Christmas parties because you couldn't have 100 people in your house, ply them with liquids all night and then not let them use/flush your toilet, right? So I wrote a funny piece about that for a local paper and sold it in five minutes and figured this writing career thing would be a breeze!
BotH:
How was it shifting from fiction to your memoir?
Jenny:
It was easy for me to do that since I come from a journalism background. It was actually a little weird going from the journalism mentality of writing facts (yes, I know it's hard to believe these days that journalism is supposed to involve fact, not opinion or rumor, but "back in my day"…that's actually how it was supposed to be!) to just making it all up! I found that to be extremely liberating. The funny thing about writing memoir was having to tap into personal information. In my newspaper column I'll include things from my life but I gloss over details. I really hadn't expected my book about my parrot to be a book about my family, so it was a little uncomfortable delving deep into that for public consumption…
BotH:
Now we're going to get goofy.  If you could spend a day with any person in history, who would it be and why?
Jenny:
Well, living in Charlottesville, I think I'd be expected to say Thomas Jefferson. But frankly if I did hang with him I'd dope-slap him about his hypocrisy and being a cad LOL. Hmmm…I'd have to ponder that more but I think I'd probably love to sit down with maybe a strong woman from the past, one who had to overcome enormous obstacles to go up against powerful men as has been the case throughout history. I guess there's that old chestnut about behind every great man is a great woman but I think so many women had to work so much harder to get incrementally ahead in the world, and it would be fascinating to talk to any woman who had that kind of um, intestinal fortitude…
BotH:
What are you working on next?
Jenny:
My agent is shopping something I started writing just as a joke. I've never been into vampire novels and then had the idea of this scorned ex-wife who was inadvertently turned into a vampire by her estranged husband, and she spends eternity trying to exact revenge. The novel has taken on a life (or afterlife!) of its own and has been a lot of fun to write.
BotH:
That sounds awesome!  Can't wait to read it!  Thanks so much for being here, Jenny!
Jenny:
Thank you so much for hosting me!!